Become a Master Wildcrafter

Wildcraft Forest School is the first educational center to offer a Wildcrafting Bioregional Studies Certificate(WBSC) and a Wildcraft Practitioners Diploma (WPD) for Master Wildcrafters. The school operates within a co-mentorship structure and connects students with ancient Shamanic teachings. The Wildcrafting Bioregional Studies Certificate is intended to strengthen Permaculture Design Courses and offers students an opportunity to learn and practice stewardship, restoration and harvesting in remote wildland areas. The following represents the course offerings presently avaiable for at Bioregional Studies Certificate(WBSC).

The WildCraft Forest is an Ecomuseum and Interpretive Forest, which includes a Sculpture Trail. We're located on Highway 6 in the Monashee Region of British Columbia just on the edge of the North Okanagan, one hour from Kelowna and 30 minutes from Vernon.

For Guided Tours call us at 250-547-9812


This PDC and Wildcrafting Basics represent 72 hours of classroom training plus fieldtrips over a 10 Day period. After the course, students will be required to write a PDC exam and perform a design and work practicum in order to achieve their PDC certification. They will also gain access to additional wildcrafting co-mentorship and certification training at the Wildcraft Forest School.

The course cost is $800.00 plus tax. Limited Number of Seats Available

This series takes place at the Wildcraft Forest and begins June 6th 2015

Read more about Wildcrafting at Whole Earth:

Location: Wildcraft Forest

Instructor: Matthew Stephens and Don Elzer

Cost: $800.00 (limited seats available)

Phone: The Discovery Centre - 250-547-9812


Re-Earthing Your Life and Community

A Permaculture Design and Wildcrafting Course at the Wildcraft Forest

A ten day journey that will change your life and help save the planet

June 6th - 16th at the Wildcraft Forest in the North Okanagan

Re-Earthing Your Life and Community is about Wild Dynamic Permaculture, which is a unique learning series made available by the Wildcraft Forest School. It carries participants to a Permaculture Design Certificate (PDC) as well as entry towards achieving a Wildcraft Practitioners Diploma (WPD) for becoming a Master Wildcrafter. Participants will be guided through core wildcrafting teachings that they can apply to their approach to permaculture. This series places special emphasis on introducing wild dynamics into urban, suburban, agriculture and forest "edge" areas.

If you would like to pay for your course fees by bank transfer, please contact us at: treks@uniserve.com
Re-Earthing Your Life and Community at the Wildcraft Forest

June 6-16 - PDC/Wildcrafting Basics Course - $800(CAD) per person

Please register by selecting this "Register Button" (Add to Shopping Cart) and you will open a Paypal window. We will then email your confirmation.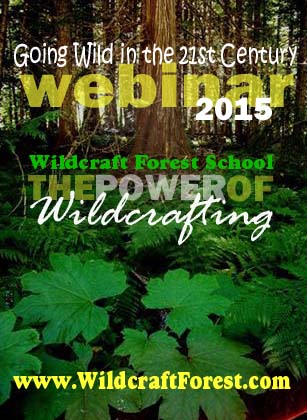 The Power of Wildcrafting

Going Wild in the 21st Century

Join wildcrafter Don Elzer in this 60-minute interactive webinar and discover the means by which you can strengthen your life's purpose by linking it to the natural world through the ancient art of wildcrafting.

Dr. David Suzuki says, "What permaculturalists are doing is the most important activity that any group is doing on the planet."

Permaculture Design Certification is beneficial to the entire planet, but directly it helps a long list of occupations and work – like gardeners, foresters, landscapers, horticulturalists, landowners, homeowners, architects, builders, planners, developers, accountants, attorneys, bankers, publishers, educators, aid workers, environmentalists, activists and young adults who have a desire to have a positive impact on our rapidly changing world. This certification is well recognized in the mainstream job market and is considered one of the best training choices because it's a cost and time effective professional certification

Taking a Permaculture Design Certification Course will assist you in bringing permaculture design to your community and neighbourhood and will empower you in your efforts towards implementing sustainable design strategies effectively and efficiently, both locally and globally. This course is for people interested in acquiring practical skills and perspective for environmentally sustainable living and productivity. This is a 10 day course with an emphasis on Permaculture theory, which is the basis for any sound and sensible sustainable and regenerative Permaculture design. By the end of the course, you will be able to confidently create your first Permaculture design plan.

Permaculture Designers are finding employment because they know how to design landscaping and agriculture systems able to do more with less. They are able to create systems based on a changing climate and challenges that are emerging in areas of food production, green space and water conservation.

Don Elzer says, "Wildcrafting is about extreme stewardship that considers the Earth and all living beings as being multi-dimensional. We require not thousands but millions of wildcrafters in order to protect this planet and its multi-dimensional systems. Each wildcrafter serves as a guardian of wild places. We are teachers and healers who are able to protect shadow biodiversity and share ancient wisdom so that humanity will better understand natures many conversations."

This Wild Dynamic Permaculture course includes "Wildcrafting Basics" which introduces participants to the foundations of this ancient art that links to biodiversity, lifestyle, activism, stewardship, Ancestral Mapping and an understanding of Earth energies. Participants will become aware of wild harvesting methods and the uses of wild botanicals. As an introduction this course explains the current role of wildcrafting in activism, work, business, community development, lifestyle and stewardship.

Wild Dynamics considers the needs of nature ahead of human needs when it comes to lifestyle, community planning and agriculture. It emphasizes that wildcrafting provides the tools that can transform a culture of resource extraction into one of local and planetary stewardship.

Certified wildcrafters will find employment, and compliment their careers in the culinary arts, education, community planning, agriculture, forest management, medicine, the healing arts and science.

Why is this course important in the Okanagan?

This course is especially designed to address present and emerging issues in the Okanagan. The valley is running out of water and it is also losing its position as a diverse food producer. This course provides tangible training that addresses water conservation and new opportunities within intensive small footprint gardening and agriculture.

There is a growing demand for safe local food.

This course provides participants with tools where they create food, yard and green space free of chemicals.

There is a lack of younger farmers moving into food production.

This course is designed as a mentorship program where community elders create opportunities for young farmers to become PDC certified and then provides mentorship that matches them with farming opportunities.

We are losing our wild lands and species because of urban encroachment, resource extraction and climate change.

This course transforms participants into passionate stewards of wild areas and provides a basic understanding as to how to restore wild lands that place the natural ecosystem first.

We would like to encourage local and wild foods and medicines within our diets and remedies.

Wildcrafting is not foraging. Wildcrafting provides knowledge regarding the identification and use of wild plants and how they can be gathered within a practice of stewardship and habitat restoration.

We can't quite explain the importance of safe food, protecting the environment and why this is important for our future.

This course helps to create a new story that links to  the importance of safe food, stewardship and bioregionalism. It provides tools from which participants can grow a narrative that explains their good work within a career, business or non-governmental organization.

The Instructors

Matthew Stephens of Sacred Ecology Design is an inner city activist based in Chicago. Stephens achieved his PDC through Bill Mollison the co-founder of permaculture.

He will present his unique approach to permaculture design for inner cities as he shares his experiences creating Chicago's first food forest. Stephens is the founder of Permaculture America and the Earth Reforestation Project and he will provide his colorful analysis about his Chicago Southside neighborhood and what happens when communities lose focus of their neighborhoods and when people lose their ability to feel the soil.

Don Elzer is a Master Wildcrafter and is the founder of the Wildcraft Forest School, which is pioneering an advanced set of teachings and disciplines for the practice of "wildcrafting".

Elzer is attracting worldwide attention as he describes "wild dynamics" and "shadow biodiversity" as anchoring a new movement that is calling people to become closer to the land. Don Elzer has spent much of his life developing concepts that link deep ecology to mainstream culture and then putting them into practice. He is best known for his investigative research, his early promotion of permaculture and his ongoing work that links rural communities and First Nations to a more self-sufficient future. Today, much of his time is spent wildcrafting tea blends and potions in the mountains, rainforests and foothills of the Monashee.